cupational English test is an internationally acclaimed examination designed to test English language proficiency of the healthcare professionals. Cracking OET test, health professionals (non-native English speakers) will make it clear that they are capable enough to communicate confidently and connect verbally with the people around while practicing in the English speaking country. If you are the one who is looking forward to cracking occupational English test for good career in the field of healthcare, this article is for you. The tips mentioned here will serve as building blocks for you to crack the exam easily.
Know About the Test
If you are a new test taker, your first step is to get acquainted with the test. The more you know about the test, the easier it becomes to pass the test. You can either reach the internet or official site to know more about the test.
Focus on Enhancing your English skills
Most of the professionals mistake the underlying concept of the test and presume that their medical knowledge will help them to crack the test easily. Of course, no, OET test is all about testing your English language skills. You should focus on enhancing your English language skills while preparing for the test instead of improving your medical knowledge.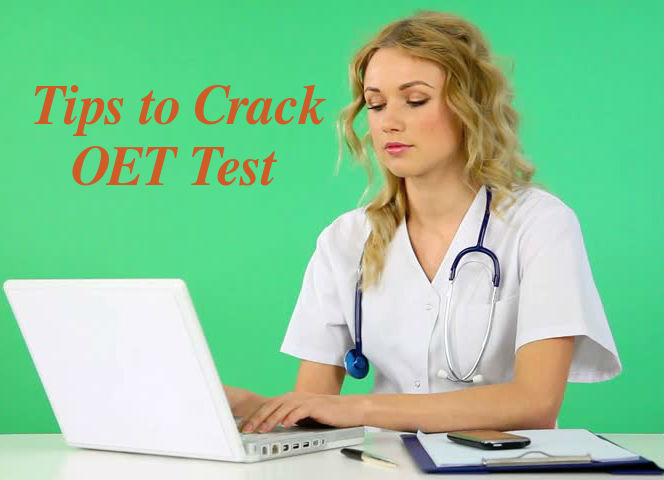 Accuracy Vs Length
As a part of testing your English language proficiency, OET tests will test your writing skills in addition to verbal skills. It is always important to learn to write more effectively than writing something to meet the stated word count in the exam. Though focusing on the word length is important while giving the written test, you should make sure that you talk about the concept that is asked for. If you don't find enough matter to represent the content than try to be precise rather than just beating around the bush. Cutting the word length may invite negative but, it is better than writing lengthy words that hold nothing to talk about. You should give more importance to the accuracy of the content rather than the length of content in the written exam.
Don't take Abbreviations
Remember, occupational English test is all about testing your English language skills. Whether you are taking the writing test, reading test or speaking test, you should ensure you answer all your questions in full. Don't cut short your answers when you are expected to be a bit elaborative with your answers.
Rephrasing in Writing Test
This is the juncture where most of the non-native English speakers score low and fail to crack the test. Many think that they can take some sentences in the text and write them as an answer. The concept of this rephrasing in the written test is to make candidate understand more about the task. It is important for you to focus on rephrasing the information to the best of your ability to score more and crack the test.